Catholic Life
At St Elizabeth's, we work closely with our Parish and have excellent links with our community. Our children regularly attend and lead Mass at Church. In school, liturgies are celebrated on a regular basis and members of our Parish are also invited to celebrate with us.
The Headteacher, senior staff and teachers lead whole school Acts of Worship which take place every Monday to begin our week as a whole school with Our Lord. Children are encouraged to bring their own prayers and during these times, we pray together for each other, our families, our community and the wider world.
Year 3 is a particularly special year, as it is when the children make their sacrament of reconciliation and receive the sacrament of the Eucharist. As a school, we serve the Catholic Community by preparing them for these sacraments. Non Catholic children are never left out and the programme is adapted for them.
We recognise the importance of children having a knowledge of other religions of the world. We, therefore, include a whole school focus on one of the main religions of the world.
One of the core reasons for this is to promote respect and tolerance of those different faiths and beliefs. This is, of course, in line with core British Values.
Mini Vinnies Commissioning Event 2019
Mini Vinnies from across the Wythenshawe Catholic schools cluster came together on Friday the 4th October at Sacred Heart Church in Baguley. A Commissioning Mass was held where new Mini Vinnies made their pledge to follow in the footsteps of St. Vincent De Paul.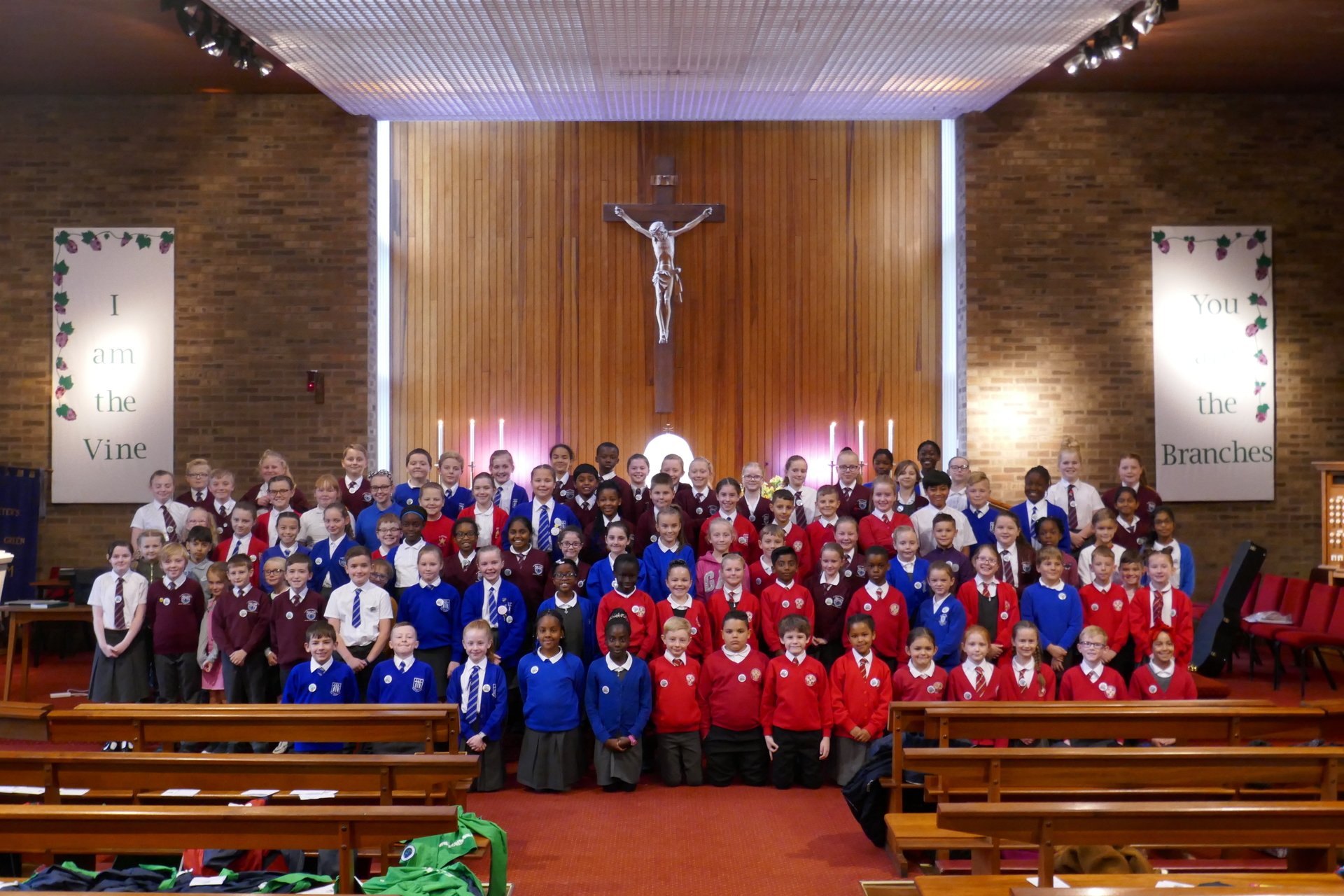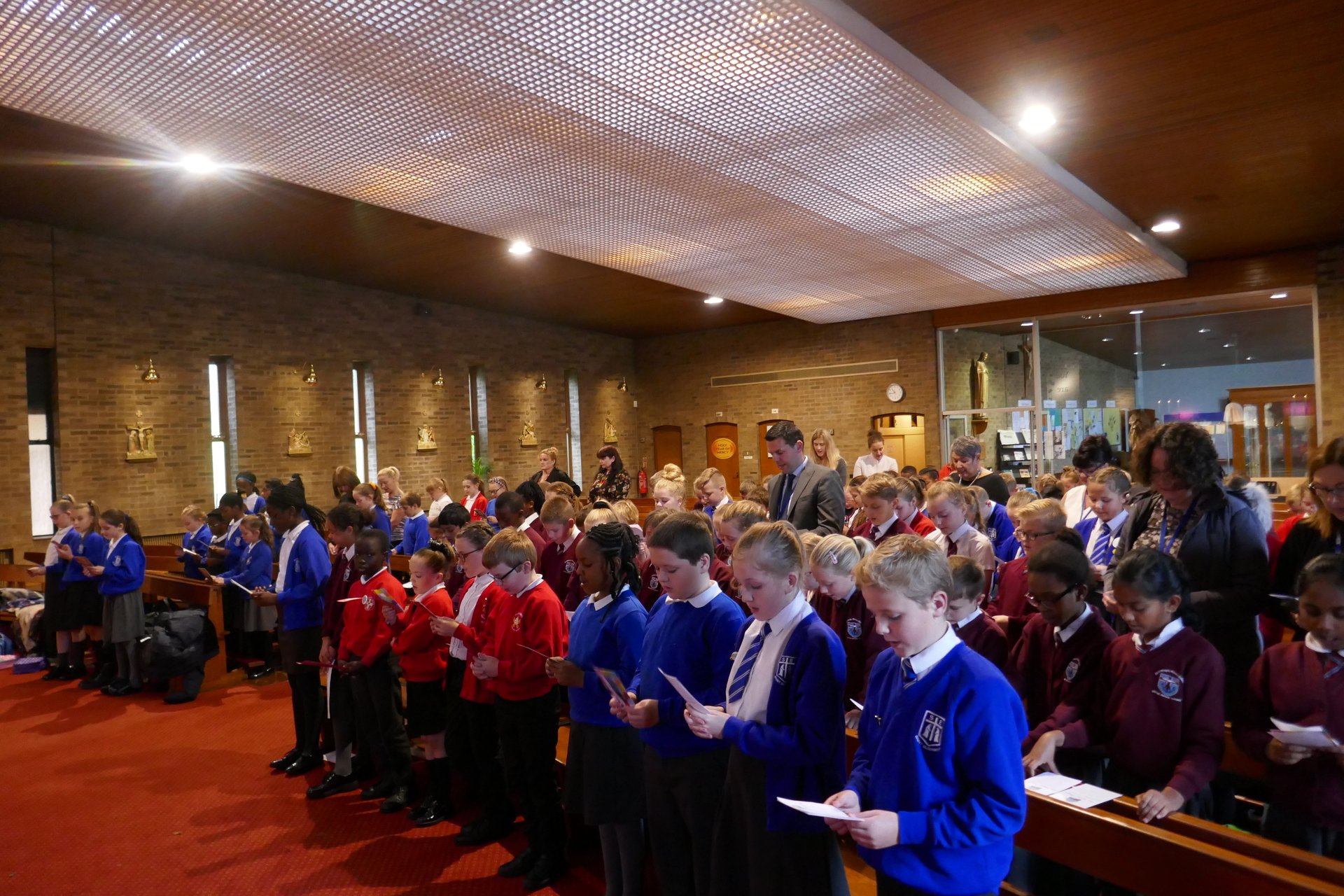 Harvest 2019
A beautiful Harvest Mass was celebrated giving thanks for the gifts of Harvest. We continue to support Wood Street Mission at this time and are grateful for the many donations we have received from parents.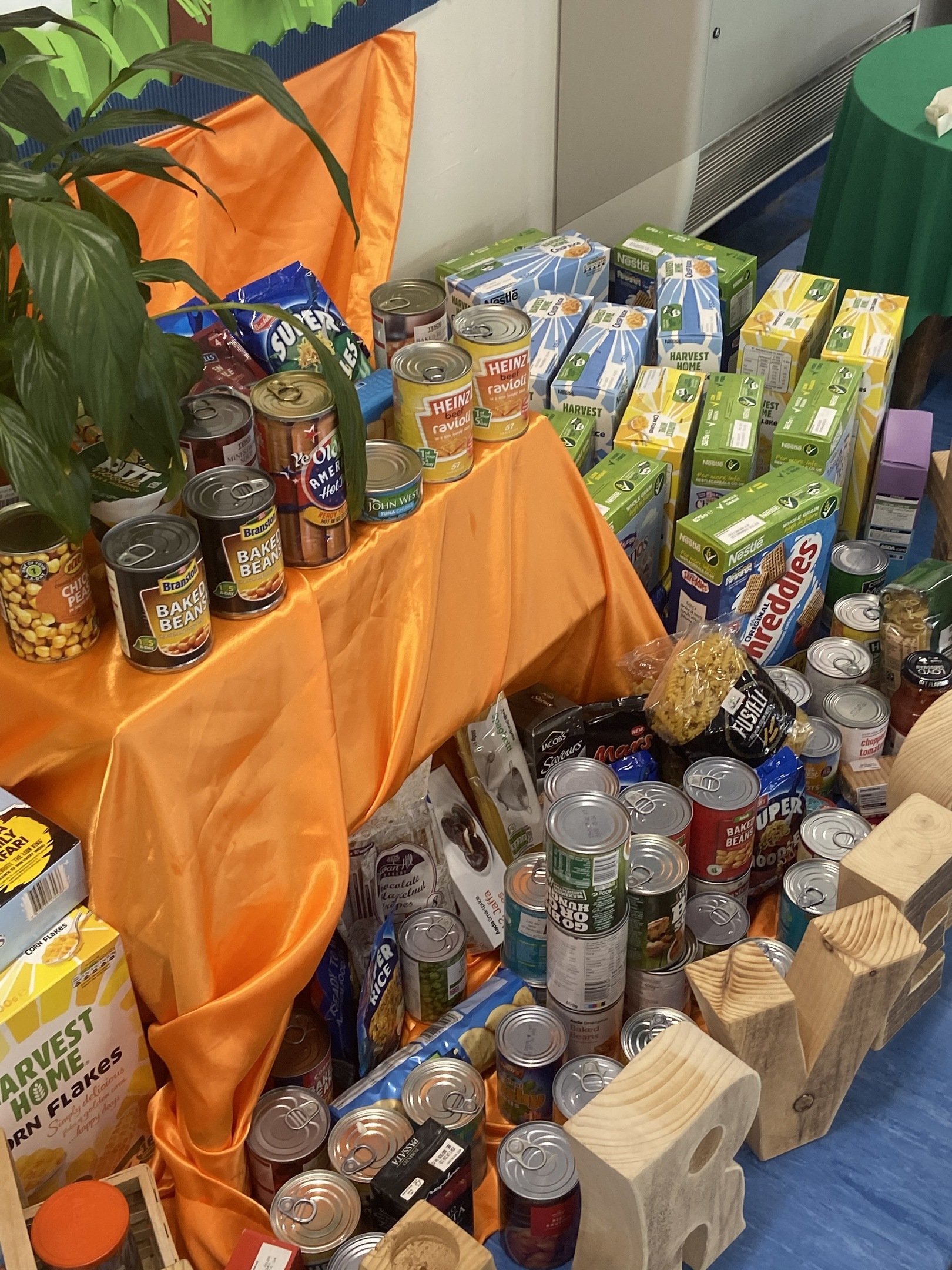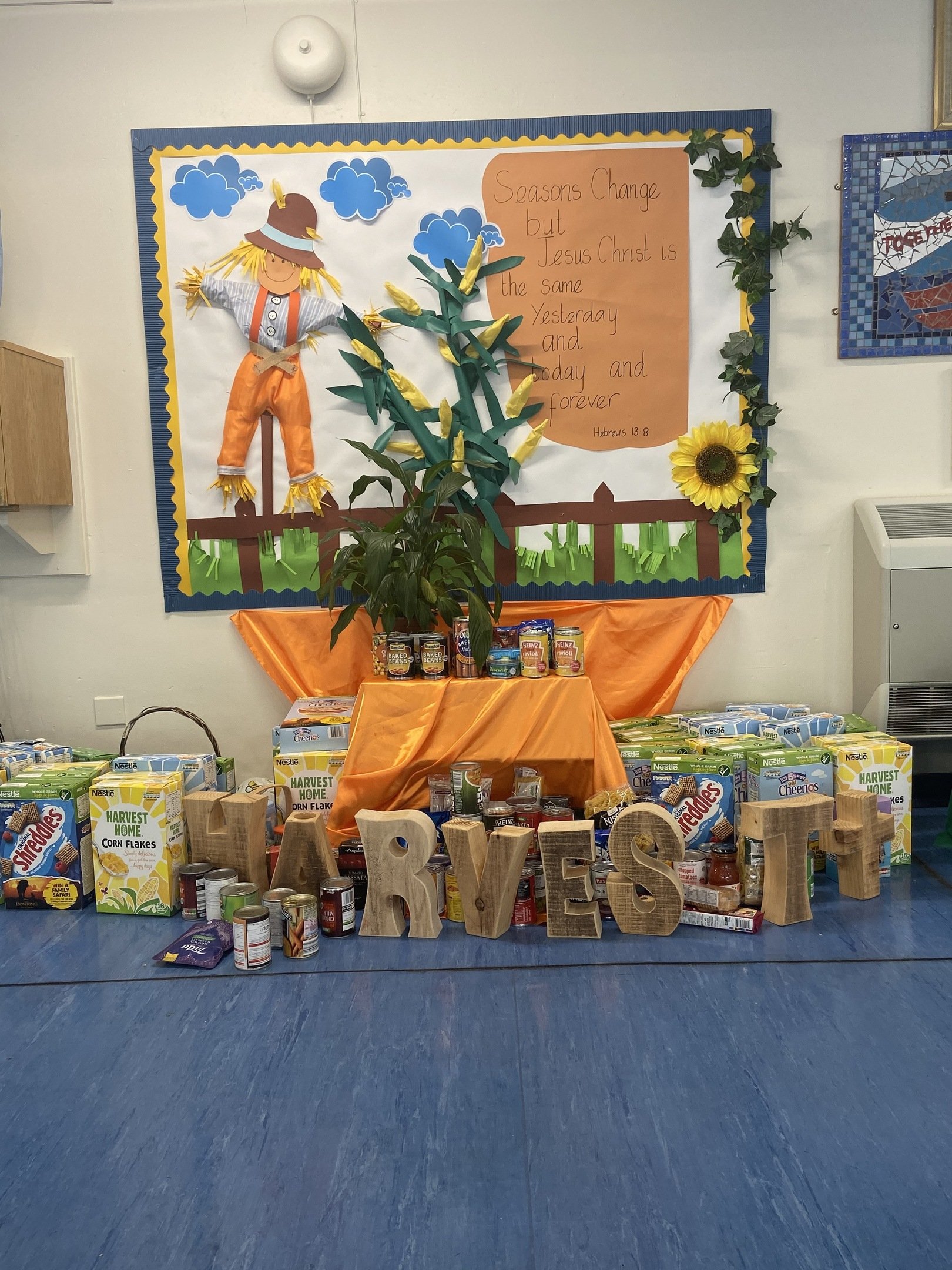 YEAR 2 MARIST CENTRE RETREAT
The Mini-Vinnies and Faith Council developed a beautiful crowning of Mary celebration which took place on 23rd May. The children performed 'Hail Mary, Gentle Woman' with sign language. There were a number of readings and hymns.
SPREADING OUR PRAYERS OF PEACE, HOPE AND LOVE
This year we celebrated Pentecost with a special party day in school. All children wore red, participated in a carousel of activities throughout the day and shared their experiences during a special celebratory assembly at the end of the day.
Our Faith Council run a Prayer Club once per week. It is a wonderfully peaceful, prayerful time enjoyed by all. During May, we will be praying the Rosary to Our Lady.
Throughout Holy Week, children are involved in a variety of activities which allow them to think carefully about this greatest week in our church's year from Jesus' entry into Jerusalem to the crucifixion. These activities took place in class and we had a wonderful production 'Resurrection Rock' presented by Years 3, 4 and 5. On Maundy Thursday morning, our Year 6 led us in Stations of the Cross which was a very poignant service. Many children, parishioners and parents commented on how thought provoking this assembly was - making them consider the journey to the cross.
Each year during Lent, we aim to raise much money as we can for those in need. Each class will hold their own sponsored activity. This year's activities are below:
EYFS: Concert
Year 1: Cake sale
Year 2: Danceathon
Year 3: Three legged walk
Year 4: Sponsored swim
Year 5: Sponsored run
Year 6: Hunger Lunch
We celebrate Judaism Week each week during February. One of our Governors kindly offered to come into school and share information about her Jewish Faith with the children. Each class then participated in a range of activities throughout the week.
Our Mini Vinnies visited the Wythenshawe Foodbank and took with them our school's food donations. They spent the afternoon helping the volunteers at the foodbank with the organisation of donated food.
END OF TERM CHRISTMAS MASS
Each morning throughout Advent, we come together as a whole school to reflect on the meaning of Advent and Christmas and begin the day with an Advent promise.
VISITS TO THE MARIST CENTRE
Throughout the year, each of our year groups from Year 2 to 6 visit the Marist Centre for a day. They participate in a variety of activities throughout the day such as reflections, music, song, prayer, dance and drama with the Marist Sisters. Early in the autumn term, year 6 spent the day reflecting on their roles and responsibilities as the leaders of the school and using their God giving talents wisely. Year 5 focused on being responsible Stewards of the Earth. Year 4 reflected on the season of Lent and how they can use their hands for good deeds during this holy season. Year 3 focused on the Eucharist and thanksgiving coming up to their First Holy Communion and Year 2 will visit the Marist Centre during the second half of the summer term.
The Mini-Vinnies developed a beautiful crowning of Mary celebration which took place in May. The children performed 'Hail Mary, Gentle Woman' with sign language. There were a number of readings and hymns. Each child was asked to bring in a flower for the service and we were overwhelmed by the number of flowers donated.