Class Activities
12/7/18
Today we transformed into our new roles as neon red, blue, pink, black, red, rainbow and green crayons from the text: The Day the Crayons Quit. On Monday we made our own crayon hats and these have helped us to transform into different characters. In today's drama we were arguing about Duncan's favourite colour. Enjoy!
28/6/18
Yesterday, Mr Trueman showed us some incredible apps involving Augmented Reality. Augmented Reality is when you are using real life objects combined with coding to make things that aren't real come to life for example a turtle swimming on our classroom door. We loved learning about growing beanstalks and going on a bug hunt around the classroom. The app we used was HP Reveal and you can download this at home for FREE and try it yourself! You can spot HP reveal signs in all sorts of places including newspapers, DVDs and on toys when you scan the logo using the app something will appear.
22/6/18 Science Experiment: How does water help plants to grow?
This half term we have been learning about plants and finding out how they survive. We know that they need water, light and nutrients to help them to grow but we weren't sure how the water travelled from the roots up to the petals of the flower. So we used blue and red food colouring and left white flowers in the solution to measure how long it takes for the water to move up and reach the petals and change their colour. We can't wait to see what happened to them over the weekend!
15/5/18 Crazy Hair Day
Crazy hair day raises money for our summer fair and was another success this year. All of the children made a real effort and as you can see looked fantastic! Could we do our hair like this everyday please?!?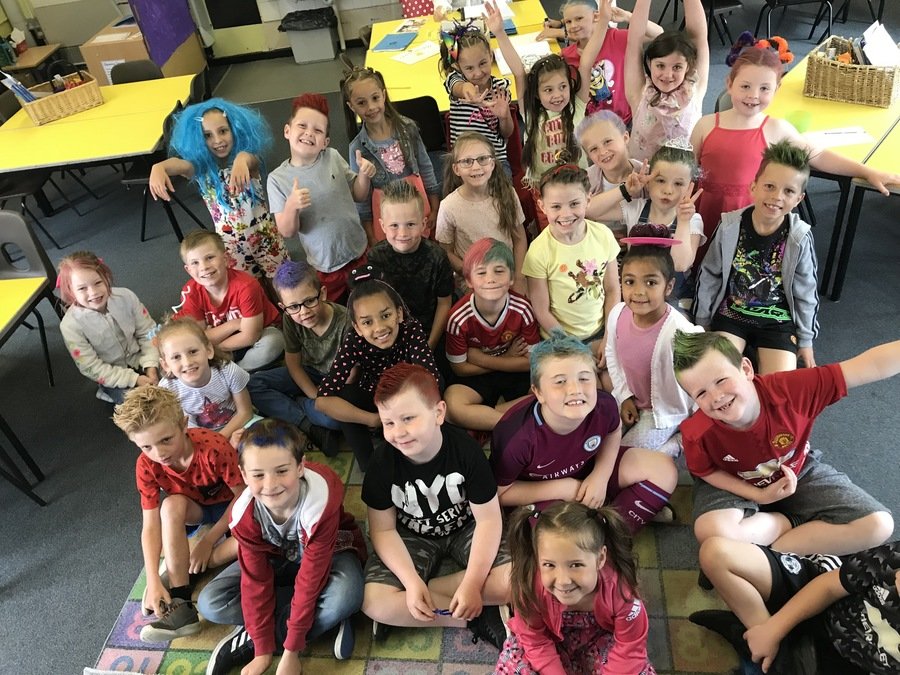 12/6/18 Our trip to the Marist Centre
Today we visited the Marist centre and had a brilliant day as you can see from the gigantic smiles on the children's faces below! Our day focused on what makes us special and celebrating our differences and similarities. We created mini me's, wrote poems, raps and performed our talents. The children really enjoyed the day and it was lovely to see them cheering themselves on and being proud of who they are! Thank-you to the Marist sisters for welcoming us feel so welcomed, mindful and calm.
5/6/18 Circuit Training with Anna the Athlete
Today we met a British Paralympian called Anna who played wheelchair basketball with the British team. Before we got to know her we completed a 5 minute circuit outside where we jumped, skipped and spotty dogged until we were exhausted! All of the children tried really hard and impressed us with their determination and energy. Afterwards, Anna spoke to us about her time on the British team, medals and how she became an Athlete and it was really inspirational to all of us and we felt excited to start some sports ourselves. We had lots of questions for Anna and she took her time to answer them all- thanks Anna!
25/5/18 SECRET AGENTS REVEALED!!
Year 2 have been on a secret mission that we haven't been able to talk to you about.. we are now secret agents. We have recently been working hard and taking some secret agent tests which we really enjoyed. Agent X (our agent friend) then delivered a top secret package to our school and now we all have secret agent badges and invisible ink pens that we can use on our future missions. Any issues, you know who you can call!
21/5/18 Pentecost Party
Today we really enjoyed our whole school Pentecost party as we were celebrating the birthday of the church! Together with Year One and FS2 we completed a carousel of different creative activities and enjoyed a Pentecost picnic too! The activities included Pentecost biscuits, making bookmarks, designing and making stained glass windows and making mini doves using cotton wool. We really enjoyed hearing the story of Pentecost and exploring the symbols of this important time.
4/5/18 VR Headsets
Yesterday we reached our target of 1000 Dojo's and as a reward we chose to borrow a set of Virtual Reality or VR headsets. We journeyed down to the bottom of the ocean and discovered abandoned ships, whales, sharks, dolphins and fish. We are going to write a review about the VR headsets so the other children can experience them too. You might spot a clip of Tallulah swimming in the ocean on our 'peek at the week' video!